Bulldog Sustainability and Yale Athletics are working hard to change the culture around waste disposal at Yale's athletic events.
Through the "Zero Waste Game Day" initiative, the team of staff and students is focused on reducing the amount of waste created at various matches and games on campus. Laid out in the Athletics Sustainability Action Plan, the initiative calls for regular waste audits, sustainable tailgating standards, and reduced production of trash by concessionaires.
Waste production at athletic events is a two-pronged issue involving litter—items not put into waste bins—and contamination—items not sorted into the right waste bins.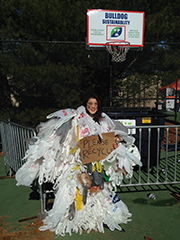 During a waste audit of October's Yale v. Dartmouth student tailgate, a team led by Kevin Discepolo, Assistant Athletic Director of Facilities, Operations, and Events, found that a whopping 20 percent of waste was littered rather than put into a bin.
Littering presents a host of problems. It demands more time and effort from custodial staff to clean up after an athletic event, it goes straight into the dumpster rather than being sorted, and it creates a safety concern.
The Yale Athletics site states simply, "Today's parking lots are tomorrow's playing fields." Anything left on the ground during a tailgating event can lead to unnecessary and avoidable injuries.
Focusing first on outreach and education, Bulldog Sustainability recently created a PSA aiming to make students more mindful of their responsibility to be good stewards of their environments at Yale athletic events.
The newly created video features Boola "winning the game" by disposing of waste properly at the stadium and on the field. This PSA will be played on the television in the Payne Whitney Gym lobby and on the screen at Reese Stadium during games starting this spring.
"The video is the first stage of an effort to encourage students to think differently about their actions during athletic events," explains Lindsay Toland, Yale Sustainability Metrics & Program Manager. "We hope our efforts will help reduce the amount of materials that get littered or contaminated during game days, making our university more sustainable as a whole."