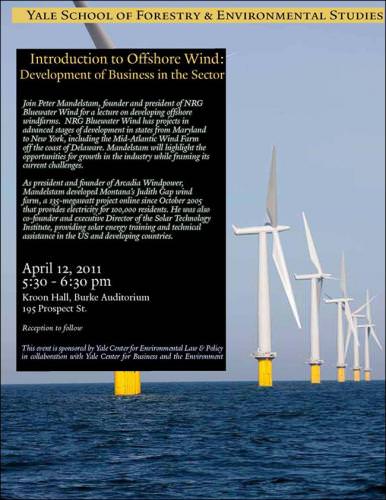 Tuesday, April 12; 5:30 PM
Burke Auditorium, Kroon Hall; 195 Prospect Street
Yale Center for Environmental Law and Policy and Center for Business and the Environment at Yale cordially invite you at attend a lecture by Peter Mandelstam, founder and president of NGR Bluewater Wind.
NRG Bluewater Wind has projects in advanced stages of development in states from Maryland to New York, including the Mid-AtlanticWind Farm off the coast of Delaware. Mandelstam will highlight the opportunities for growth in the industry while framing its current challenges. The event is free and open to the public; a reception will follow in the Knobloch Environment Center.
As president and founder of Arcadia Windpower, Mandelstam developed Montana's Judith Gap wind farm, a 135-megawatt project online since October 2005 that provides electricity for 100,000 residents. He was also co-founder and executive Director of the Solar Technology Institute, providing solar energy training and technical assistance in the US and developing countries.
For more information on the lecture, contact Susanne Stahl at 203.432.5594 orSusanne.stahl@yale.edu.