Over 100 students, making up 27 different teams, came together from around the world to share their ideas for local action in the context of the global climate negotiations at an event just outside of Paris on December 5. At the Global University Climate Forum, bright young minds from 22 universities came together to share projects which strive to make their universities more sustainable.
Organized by Yale University on behalf of the International Alliance of Research Universities (IARU) and in partnership with the International Sustainable Campus Network and Sorbonne Universitiés, the forum challenged students around the globe to form teams and to design concrete projects which would make a lasting impact on their universities. The teams then met in France during the 21st Conference of Parties of the UN Framework Convention on Climate Change (COP21) to present their ideas to each other and receive feedback on how they may make their projects even more impactful.
"The [event] was inspiring. There's no doubt that students play an important role in pushing the boundaries of campus sustainability…it was amazing to see sustainability as the common bond between students from 30 countries and the passion and determination they are demonstrating to impart real change on their campuses," said Zena Harris, Director of Operations and Communications for the International Sustainable Campus Network.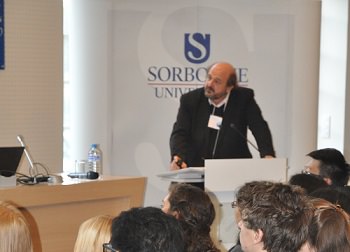 The types of projects were as diverse as the students. Some proposals strove to implement tried-and-true methods of waste reduction, such as implementing campus-wide composting systems (Australian National University, Australia) or increasing use of rails over planes (University of Edinburgh, Scotland). Others focused on gathering actionable scientific data by quantifying the carbon stored in a local ecosystem to guide conservation efforts (Universite Officielle de Bukavu, Congo). Still more focused on highly visible and innovative programs like providing wasteless, electronic 'goodie bags' for orientation activities (National University of Singapore, Singapore), or improving bicycle routes to facilitate eco-tourism (Tongji University, China).
In addition to presenting their projects and hearing about others' plans, students also had the opportunity to hear from influential climate scientists and policymakers. At the conclusion of the program, expert commentators offered their reflections on the projects, wherein they commented on the inspirational nature of the projects and challenged the students to do more and follow through on their projects.
"This Forum brought a new level of energy and enthusiasm," noted Maria Ivanova, Director of the Center for Governance and Sustainability, and one of the speakers at the forum. "The projects were ambitious and comprehensive, yet feasible. They illustrated the power of ideas and the importance of sustained action toward their implementation. When brought together, the featured projects would form a blueprint for campus and community sustainability."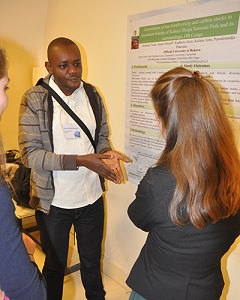 Grassroots groups were present as well – the GroundTruth Project, which offers experience to young journalists learning to report of social justice, joined in to learn about climate justice and its implications on policy. #climatesign, a grassroots project which strives to make climate activism cool, also hosted an event during the forum.
Over the course of the year, the student teams will take the feedback they received in Paris and use it to help implement their projects. Via an online platform students will be able to report on their progress, see and comment on each other's work, and continue having productive dialogs. At the end of the year, IARU will pull together a final report that includes the outcomes of each project to be published by IARU and ISCN. UC Berkeley Prof. Daniel Kammen was so impressed by the caliber of the student projects that he offered to publish final reports in Environmental Research Letters, a journal for which he serves as editor-in-chief.
"The IARU Global University Climate Forum truly gave me hope that we can not only envision the change we need to 'bend the curve' on carbon emissions, but that we are in exceptionally talented hands of the students and their advisors today from across the IARU network," said Kammen.
Other voices were quick to praise the forum as well.
"It was a truly engaging day," said Melissa Goodall, Associate Director of the Yale's Office of Sustainability, who helped organize the event. "There is real interest in next steps and there are certainly more groups interested in participating if we decide to do it again."
All photos credit of Sorbonne University