Yale's Eli Surplus Exchange won the "Green and Environmental Stewardship" category of PR Daily's 2016 Corporate Responsibility Awards. Providing a platform for Yale units to sell or give surplus University items to other Yale departments, the program reduces waste and saves resources.
Eli Surplus Exchange encourages Yale employees to reuse items at Yale rather than buying them new or throwing them out. In fiscal year 2016, 1458 items were exchanged including electronics, lab equipment, lab supplies, and office supplies. Lisa Maloney, Director of Media Strategy Yale Administration, who manages the program shared that "since its inception almost 4 years ago over 3000 items have been exchanged through the program."
The program relies on an online platform that is quite simple to use. Yale employees just need to log in to the Eli Surplus Exchange site and choose whether they are submitting an item or browsing for one.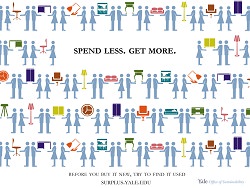 Yale Environmental Health & Safety (EHS) has been successful in using the site to extend the life of lab equipment, like Plexiglas shielding, an expensive material that blocks radiation.
"When lab groups move, they sometimes leave behind used Plexiglas shielding. EHS is able to recover it, and through Eli Surplus Exchange, find Yale researchers who need it," explains Environmental Affairs Manager Brenda Armstrong, "EHS then gives it to the researchers for free and delivers it directly to their labs. This effort saves money and reduces waste."
Sarah Jane Compton, Senior Administrative Assistant at the Yale Office of Sustainability has also benefited from the services. "We did a 'spring cleaning' of the office and noticed some items that were no longer of value to us but could be of use to others," Compton remarks, "I posted them on Eli Surplus Exchange, received emails from those interested, and the items were picked up within the week. I've had just as simple a process getting an item, myself."