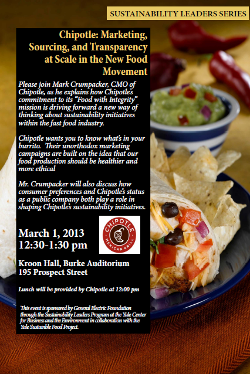 Please join Mark Crumpacker, CMO of Chipotle, as he explains how Chipotle's commitment to its "Food with Integrity" mission is driving forward a new way of thinking about sustainability initiatives within the fast food industry.
Chipotle wants you to know what's in your burrito. Their unorthodox marketing campaigns are built on the idea that our food production should be healthier and more ethical.
Mr. Crumpacker will also discuss how consumer preferences and Chipotle's status as a public company both play a role in shaping Chipotle's sustainability initiatives.
---
Chipotle: Marketing, Sourcing, and Transparency at Scale in the New Food Movement
March 1, 2013
12:30-1:30 pm
Kroon Hall, Burke Auditorium
195 Prospect Street
Lunch will be provided by Chipotle at 12:00 pm
This event is sponsored by General Electric Foundation through the Sustainability Leaders Program at the Yale Center for Business and the Environment in collaboration with the
Yale Sustainable Food Project.