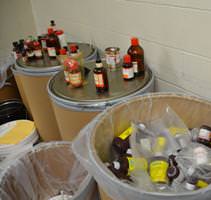 Yale Environmental Health and Safety (EHS) organized a Chemical Clean Out Day for the Anlyan Center laboratories on Thursday, Oct 31, 2013. All labs were allowed to bring their hazardous chemical waste to a specified room where trained disposal chemists packaged the chemical waste to meet proper shipping requirements. As an exception to the typical requirements, labs did not have to write up a hazardous waste tag for each bottle or an inventory of all of the waste, since the waste was directly packaged and sent off-site that day. 
This program encouraged labs to reduce their chemical storage of expired, unwanted chemicals to promote a safer lab environment and also encouraged them to review their chemical inventories to promote less wasteful purchases in the future. "The chemical clean out day was such a great idea. Our lab has accumulated a significant amount of chemicals over the years. This event has made it so much easier for us to discard expired and unwanted chemicals that were taking up a lot of precious space in our lab," said Marta Piecychna, a research assistant in the Department of Internal Medicine, section of rheumatology, who brought a cartful of chemicals to the cleanout event. 
As part of the program, Yale EHS rewarded the lab that brought the most waste with a pizza party.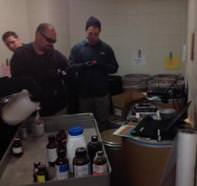 The Weismann Lab TAC S320 of the Department of Genetics was the winner, disposing of 423 bottles of chemical waste. In total, 15 labs participated by bringing a total of 2827 lbs of chemical waste. It took 5 trained chemists over ten hours to sort and package the waste into 44 different shipping containers. Waste included old and expired acutely hazardous chemicals and gases that will now be properly disposed.
This is the first chemical cleanout event hosted by Yale EHS at the Yale School of Medicine. Yale EHS has organized chemical cleanout events for the School of Engineering and Applied Sciences in spring 2013 and the Chemistry Research Building two years ago. 
The chemical cleanout day events are one way that EHS works towards reducing waste and support EHS's overall waste minimization plan on campus. These events contribute to the achievement of the following goal of the Sustainability Strategic Plan 2010-2013: "By June 2012, implement a plan to reduce laboratory-related waste and energy use, and to promote the use of safer research materials."
The Anlyan Center for Medical Research and Education (TAC) provides laboratory, research, classroom, and office space for faculty and students at the Yale School of Medicine. The Anlyan Center includes laboratory space for the departments of Immunobiology, Genetics, and Internal Medicine, including sections of cardiology, infectious diseases, digestive diseases, nephrology, pulmonary, rheumatology and endocrinology.
For more information on disposal of chemical waste, please visit: http://ehs.yale.edu/chemical-waste