URI and the City of New Haven's 'bioswale' project
Getting caught in a midsummer downpour is all too familiar to Connecticut residents. But our feelings toward rainfall vary widely: white-collar workers grab their umbrellas begrudgingly, cursing the heavens as they rush through city centers; children pounce on puddles, splashing each other and the occasional passerby; and local farmers close valves with a grin, admiring the natural watering of their fields.
For many of us, our interaction with the season's rains does not extend beyond mixed feelings, and amounts to nothing more than soaked shoes and green lawns. But a group of Yale scientists and New Haven community supporters is beginning to grow from the ground up to address the environmental and social impacts of stormwater runoff in what some call the greatest small city in America.
We sat down with Kelsey Semrod (MESc '16) from the Urban Resources Initiative (URI) to find out more about how Yale and the City of New Haven are coming together to construct over 200 'bioswales' – manually dug depressions designed to collect and infiltrate stormwater runoff in urban areas – with the goal of reducing the throughput of harmful pollutants to the Long Island Sound and its tributaries.
---
Yale Office of Sustainability (YS): We're sitting outside Kroon Hall, where we can see a rain garden that was installed recently to convey a flow after [Yale] recently disconnected a downspout at Sage Hall. What's the significance of this feature and action?
Kelsey Semrod (KS): New Haven has a lot of impervious surfaces and combined [sewer] systems. These two ingredients of
infrastructure make a recipe for uncontrolled stormwater runoff. As water flows across these surfaces, it picks up garbage, metals, nutrients, and other chemicals, and transports these pollutants to our urban water sources. Downspout disconnection represents one method of reducing the influx of stormwater through New Haven's four combined sewer overflows, into our rivers, and ultimately to the Long Island Sound. When two FES students suggested replacing Sage Hall's downspout with a rain garden and garnered support from Dean Crane and other Yale departments, I think stormwater mitigation efforts started to receive more attention. So this is an exciting spot on campus.
YS: Tell us about the stormwater mitigation project you're working on with URI and the City. How did you start to get involved while at FES? What's the impetus behind this bioswale project?
KS: I first learned about these systems when I was a sophomore at Trinity. I was researching trace metal contamination of an urban watershed in Hartford, looking specifically at the role of a sanitary sewer overflow. Hartford has long been a center of metal manufacturers and finishing facilities, and these industries have historically dumped metal shavings into nearby bodies of water like the Park River. When I did trace metal contamination analysis of one section where I knew there was an overflow, I found huge elevations of lead and other metals. Our research group was really surprised by our finding, so we went to the Connecticut Department of Energy and Environmental Protection and asked if this was historic contamination or the result of ongoing contamination. DEEP informed us that they had dredged the area five years ago, meaning that it was current, not historic.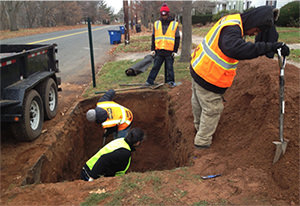 So I knew that I was interested in urban watersheds before I came to FES. But I also knew that I didn't want to focus on the problem anymore; I wanted to focus on solutions. I had heard about green infrastructure as a means of conveying and filtering stormwater runoff. Despite it being a relatively new solution that people were testing, I hoped to tap into it at FES, but I wasn't aware of any studies in Connecticut when I started. Luckily, I ended up speaking with Gabe Benoit, whom had submitted a grant with Colleen Murphy-Dunning at URI to build bioswales in New Haven and test how effective they were at removing pollution and reducing peak flow associated with stormwater runoff. Their motivation for the project was that although cities are installing green infrastructure and advertising it as a solution, we really don't know how effective these systems are when it comes to mitigating stormwater runoff. So I think they saw an opportunity to fill this gap in knowledge.
YS: So you're not only installing green infrastructure as a solution, but also designing and conducting an experiment to evaluate the effectiveness of these systems at mitigating runoff?
KS: Exactly. We want to make the case that bioswales and other forms of green infrastructure not only look beautiful, but provide valuable ecosystem services.
YS: What is a bioswale? And why bioswales instead of rain gardens?
KS: URI chose bioswales – a type of green infrastructure that conveys water coming from the street and filters it naturally using soils and plants – because of the structure of New Haven's residential areas. Extensive impervious surfaces and combined systems mean that there's a lot of stormwater movement in the cityscape. Rain gardens simply can't keep up with the flow, and green roofs are more involved and difficult to implement. Bioswales are the best form of green infrastructure for these conditions because they meet the demands of our city: they are high capacity and have a right-of-way design, allowing them to handle high flows without being invasive to homeowners and pedestrians.
YS: Where are URI and the City installing bioswales? How big are they?
KS: We are installing eight different models of bioswales on West Park Avenue, which backs up to the West River. This project is funded by a $150,000 research grant from the Long Island Sound Futures Fund, which is administered by the National Fish and Wildlife Foundation. URI was also contracted by New Haven to install over 200 bioswales throughout the downtown area and along Howard Avenue through the City's $2.5 million Community Development Block Grant. Expect "bioswale" to become a common word in every New Haven resident's vocabulary in the next few years. 
Now, all of the bioswales are based on New York City's 10-foot by 5-foot right-of-way bioswale. At the very basics of it, you dig down four to five feet, take out all of the sediment – soils in New Haven are really great for conveying flow and filtering because they are mostly fine clay – and replace the soil with 'engineered soil,' a combination of sand and organic material that facilitates filtration and supports plant growth. You then place rocks at the top of the bioswale, in addition to a variety of plants, including ones with deep roots for filtration, drought-tolerant species that can survive without someone taking care of them, and ones that traditionally exist in wetlands in case an event floods the bioswale and submerges the plants. The bioswales are also equipped with monitoring equipment to record data on flow and water quality.
YS: And then it needs curb appeal, right?
KS: Exactly. In fact, by law, the last step is to place a fence around the bioswale if it's on the residential side to prevent a passersby from falling in.
YS: An accidental swim in a bioswale sounds refreshing in this summer heat! What does maintenance look like?
KS: Maintenance is one of the toughest pieces of the puzzle. Ultimately we want homeowners to maintain and take ownership of them, which involves watering the plants initially before they become resilient enough to stand on their own, and getting rid of any leaves or other material, such as debris, which can make its way into bioswales. While there isn't a lot of maintenance, it does need to be done, especially in the early stages.
YS: What can homeowners outside of these designated areas do to manage stormwater runoff?
KS: Every home's roof and downspouts are different, so there really isn't a "one-size-fits-all" solution. However, installing rain barrels to collect rainwater and irrigate lawns and gardens is one way homeowners can help. In fact, URI is organizing a rain barrel installation workshop in Westville soon, where representatives from URI's EMERGE and GreenSkills programs will install rain barrels free-of-charge for a volunteer homeowner, who has adopted a West Park bioswale, while others watch and learn.
YS: What are some of the environmental and social benefits of this project?
Bioswales are excellent at treating and reducing runoff from parking lots and other impervious surfaces, which tend to carry metallic compounds from car exhaust and paint, as well as chemicals from pesticides used on surrounding plantings. An added benefit of bioswales  is that they require less maintenance and pesticides because they make use of native species, and provide critical habitat for insects, birds, and other fauna.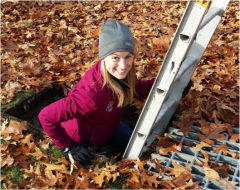 The primary social benefit is educating people about the importance of stormwater mitigation efforts. For example, last week I was in a manhole removing a data collection device from the sewer when a woman stopped and asked what I was doing. When I told her that she was living in a combined sewer area and URI was installing bioswales to reduce the negative environmental and health effects that stem from residents' sewage entering the West River, she thanked me for making her aware of the threat facing her neighborhood and wanted to learn more. I find it's those small conversations between neighbors and fellow citizens that are most meaningful, powerful, and effective when it comes to driving social and environmental change.
---
Is the greatest small city in America beginning to transform into one of the most resilient ones on the Eastern Seaboard? Only time will tell. But what we can glean from URI and the City of New Haven's new bioswale project is that the New Haven of the future – one that is sustainable, safe, just, and prosperous for all citizens – will require more collaborative efforts between town and gown that result in actionable, scalable solutions to the most pressing environmental and social challenges of our time.
Like what you have read? Check out our news article on sustainable landscaping at Yale.
For more information, please contact our office at sustainability@yale.edu or visit URI's website.
Please note that this transcript has been edited.