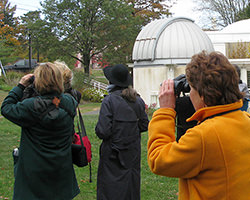 Yale's built environment is home not only to students, faculty, and staff, but myriad wildlife species. Monarch butterflies and bumblebees can be seen in Yale's urban meadows; gray squirrels often elicit smiles from students as they clamber up elms on Old Campus; black-capped chickadees whistle fee-bee on Science Hill. With fall migration upon us, now is an opportune time to explore campus and learn about the birds that sojourn at Yale, as well as their interactions with our built environment.
Fall migration: what it is and how best to see it
Autumnal equinox is commonly used to signify the peak of fall migration: when some birds that spend summer in the northeast fly south for winter. As birds travel south, they take temporary reprieves along the way to rest. These migratory birds tend to return to the same locations each year, making some birds prominent fall figures in certain communities. Sharp-shinned and broad-winged hawks are among New Haven's feathered favorites in fall.
Because the dates of fall migration vary from year to year depending on a number of factors, ranging from the amount of daylight to daily temperature, if you want to witness the wonder of fall migration, you should frequent Yale and New Haven's outdoor areas. By searching the trees and skies often, you are more likely to spot one of the many bird species that pass through our campus. According to the West Campus Birding blog, 128 species of birds have been seen at West Campus this fall.
To really improve your chances of spotting migratory birds, and to understand better the species that visit Yale's campus and the City of New Haven, sign up for a bird walk with our Citizen Science program! You can also enter your bird observations into the online data portal of the Yale Biodiversity Citizen Science Initiative (YUBio).